International conferenceheld under the patronage of the Slovak Ministry of Economy
PHOTODOCUMENTATION



General partner:


Main partner: GE ENERGY, Bently Nevada Slovakia, s.r.o

Based on the initiative of the late SSU chairman, Adolf Murin, and following the agreement of the partner maintenance organisations from the Czech Republic, Hungary, Poland and Slovakia, in May 2005 for the first time a conference of maintenance took place as a common project of their national maintenance societies. Slovakia was a host country and the main organiser was the Slovak maintenance society. The fundamental goal was  to provide actual information of high professional standard and to create favourable conditions for exchange of experience and knowledge of maintenance people of the Central European region.

The conference took place in the well established term in May (9 -10 May, 2005), traditionally in the High Tatry at  Strbske Pleso in the hotel Patria. The conference substituted the National forum on maintenance which followed the intention to organise a regional conference within its national conference in co-operation with partner on the Central European level. We can declare that the SSU started successfully and did the task well. 

The conference was attended with almost 200 participants, of which more than 50 from abroad. The conference enjoyed presence of distinguished guests -honorary EFNMS president, Mirta Baranovic form Croatia, appointed EFNMS honorary president  Guido Walt from Switzerland, EFNMS chairman,  Hans Overgaard from Denmark and many more personalities from abroad and Slovakia. By the total number of participants the conference was the most successful and fulfilled expectations.

For the first time there were two accompanying actions held - Seminar "Maintenance management in small and medium enterprises", lectured by Adolf Murin and Vladimir Stuchly and workshop "EFNMS maintenance benchmarking", lectured by Vendelin Iro and Juraj Grencik. The seminar was attended by more than 20 and workshop by 12 participants. Both actions were positively evaluated and should be followed by similar actions during next conferences.

Some statistics

The conference followed the established model- one and half days sessions starting with opening plenary and followed by two parallel sessions. Within the programme there were also company presentations and there was also exhibition area for companies to present their products and services. Totally 190 participants, of which 53 foreign – 29 from the Czech republic, 7 from Hungary, 6 from Poland,  3 from Germany, 2from Croatia, 2 from Netherlands, by one form Denmark, Austria, Switzerland and Sweden.

During the conference for the second time SSU prize of "Maintainer of the year 2005" was granted to general maintenance manager from the U.S.Steel Kosice, s.r.o., Ing. Jan Vranec

and for the first time SSU prize for the diploma work , that was granted to graduate from TU Kosice, Ing. Antania Bobkova for the master thesis on calculation of OEE in Embraco corp.

Instead of others, one comment by EFNMS chairman, Hans Overgaard :"How did you manage to get almost 200 people to the conference?"

We can evaluate the conference very positively. It fulfilled expectations waited from the conference of Central European importance. The next conference will be in 2007 in Poland. Even Croatia expressed its interest to join this series.

Conclusion – nobody at the conference would have imagined that some weeks after the conference SSU chairman, Adolf Murin, will leave the maintenance family. Everybody saw that he was enduring the serious illness. But he showed nothing on him and was able to arrange smooth and successful run of the congress. Unfortunately it was his last public activity. On 2 June 2005 he lost his fight for life. The Central European Forum on Maintenance was another one of his successful projects, but was the last one.

Photos from the conference: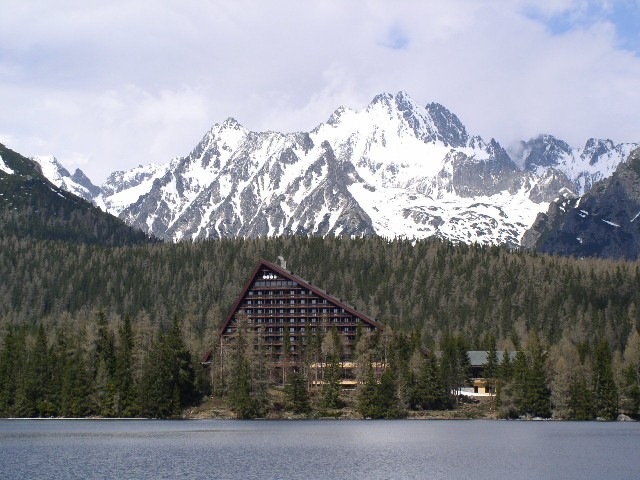 Traditional conference venue - hotel PATRIA below snowy Tatra mountains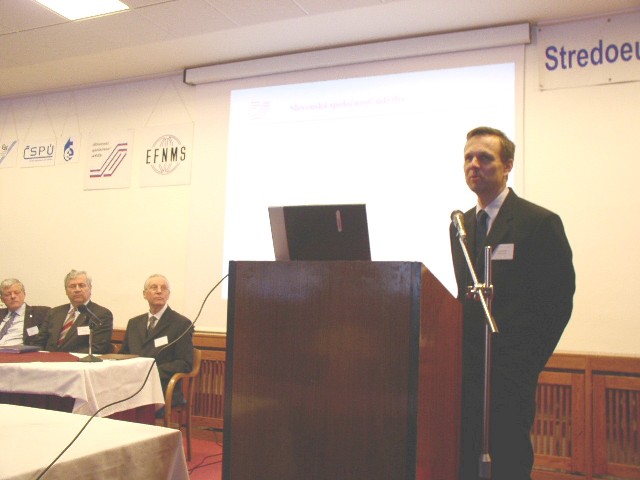 Conference opening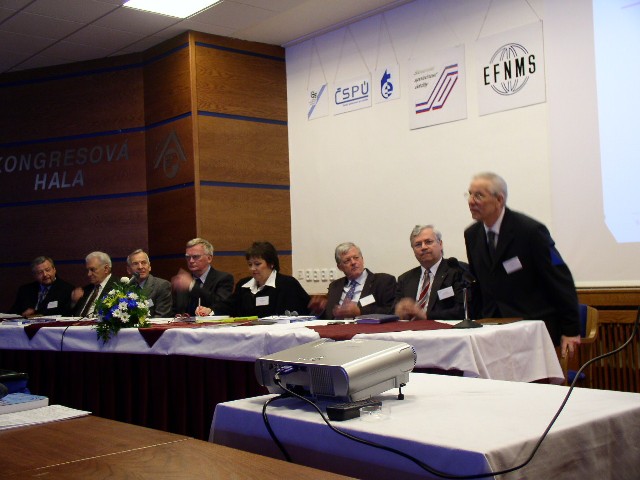 Conference board, from the right: Adolf Murin - SSU chairman, Juraj Sinay - rector TU Kosice, Guido Walt, Switzerland - appointed EFNMSvzw president, Mirta Baranovic, Croatia - EFNMSvzw president, Hans Overgaard, Denmark - EFNMSvzw chairman, Jan Novy, Czech Rep.- president CSPU, Karoly Solyomvari, Hungary-  GTE, Krzystof Olejnik, Poland - PNTTE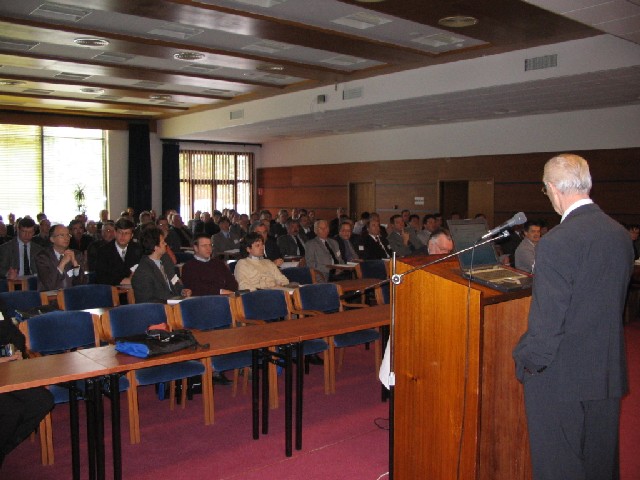 Congress hall - conference participants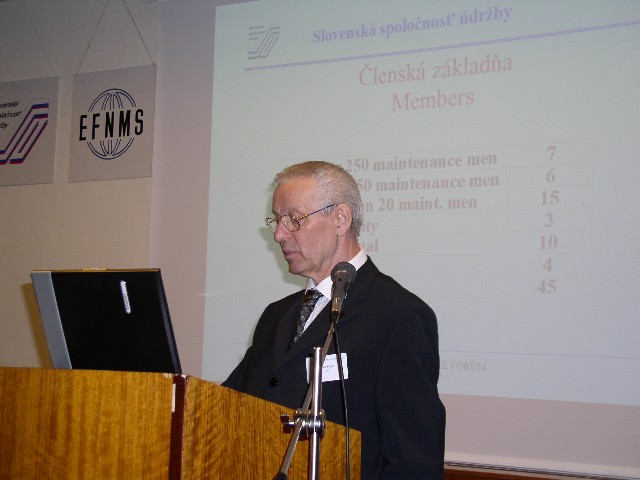 SSU chairman, Adolf Murin, presenting 5 years of SSU activities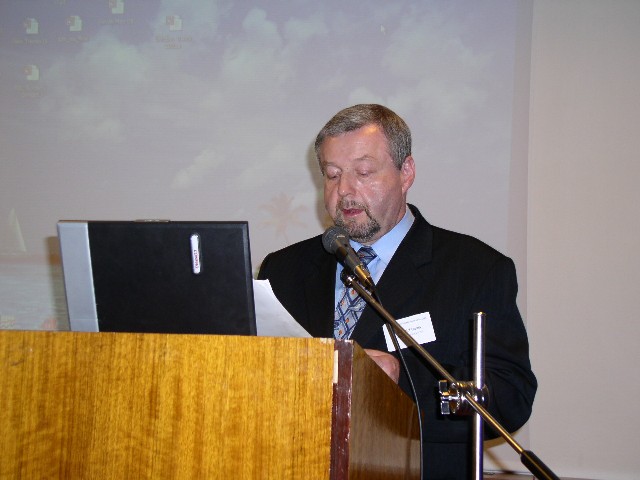 Krzystof Olejnik, Poland, representative of PNTTE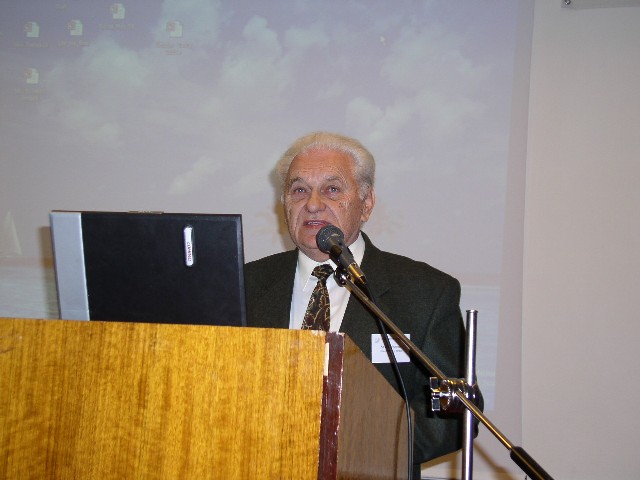 Karoly Solyomvari, Hungary, GTE chairman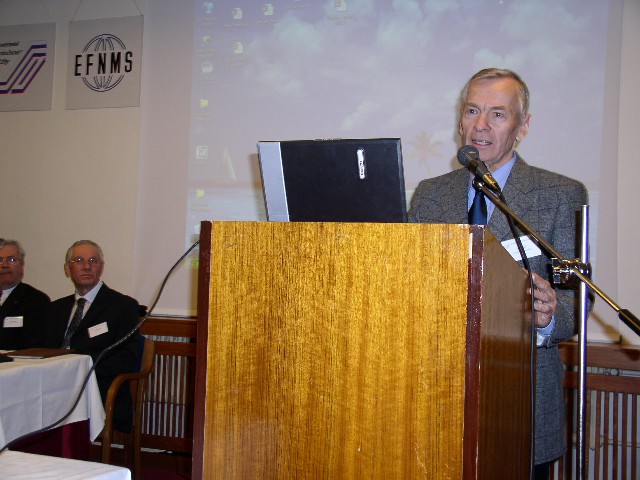 Jan Novy, Czech rep., president CSPU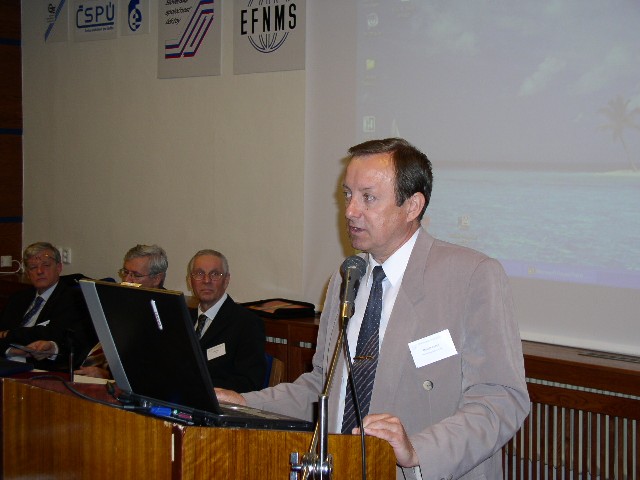 Dusan Zubor, representative of the Slovak Ministry of Economy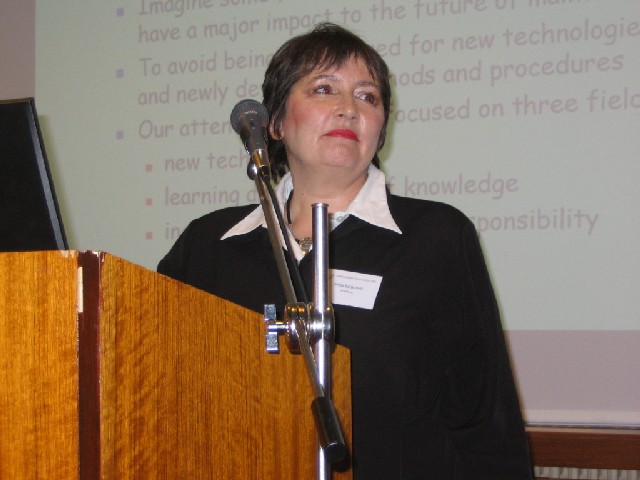 Mirta Baranovic, Croatia, EFNMSvzw honorary president - New trends in maintenance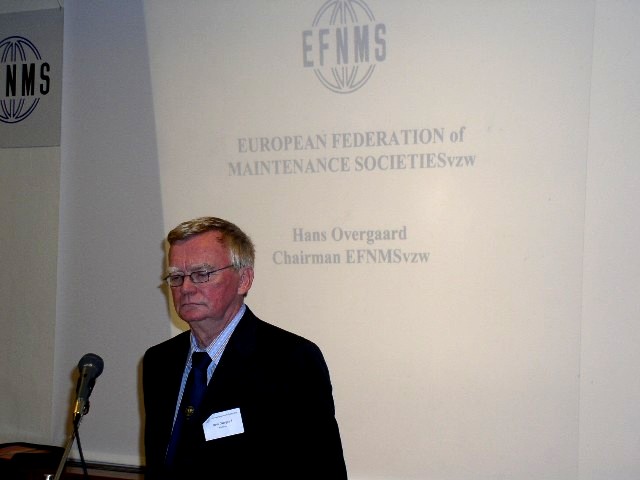 Hans Overgaard, EFNMSvzw chairman - presentin EFNMSvzw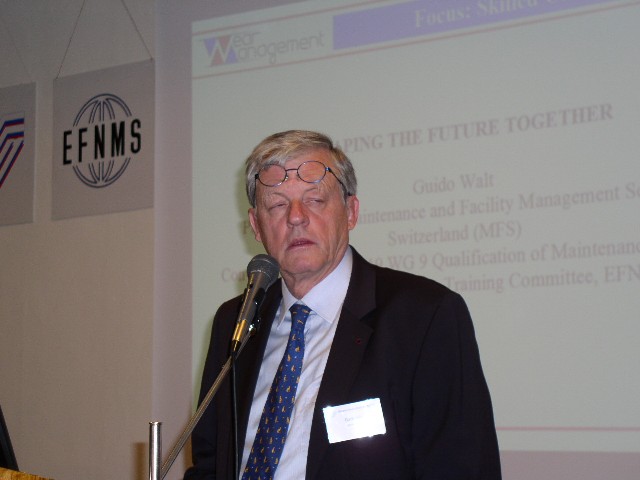 Guido Walt, Switzerland, appointed EFNMSvzw honorary president - Shaping future together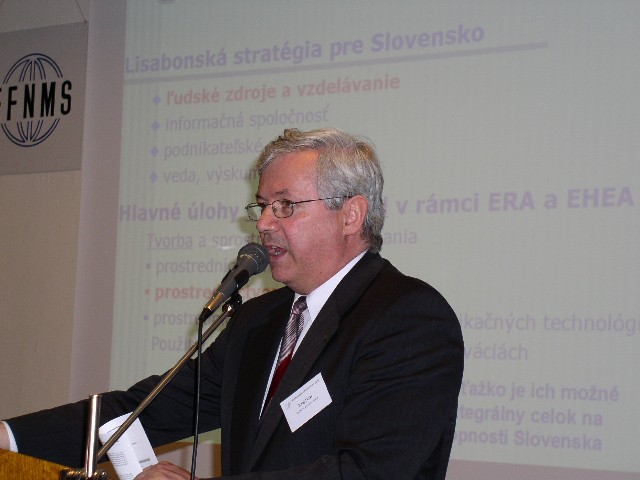 Juraj Sinay, rector TU Kosice - University education in maintenance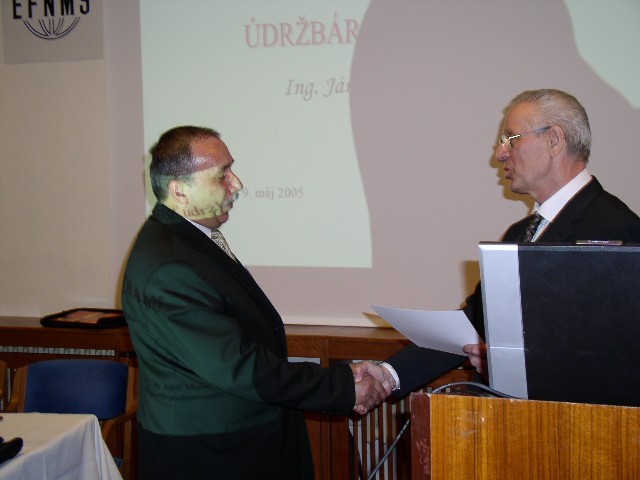 Award "Maintainer of the year 2005" - Jan Vranec, general maintenance manager, U.S.Steel, Kosice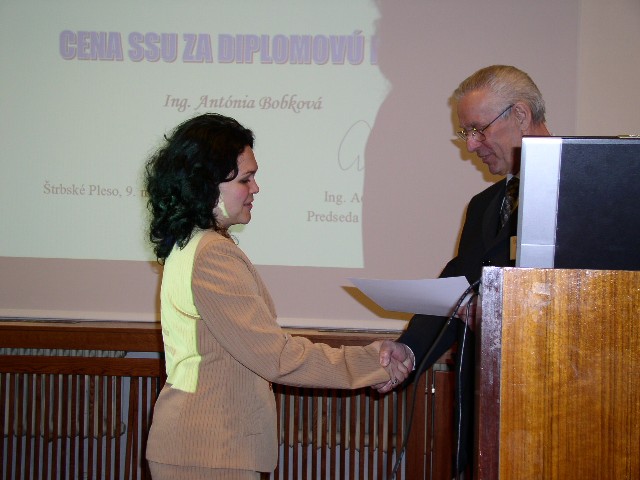 Awarding SSU prise for diploma work - Antonia Bobkova, TU Košice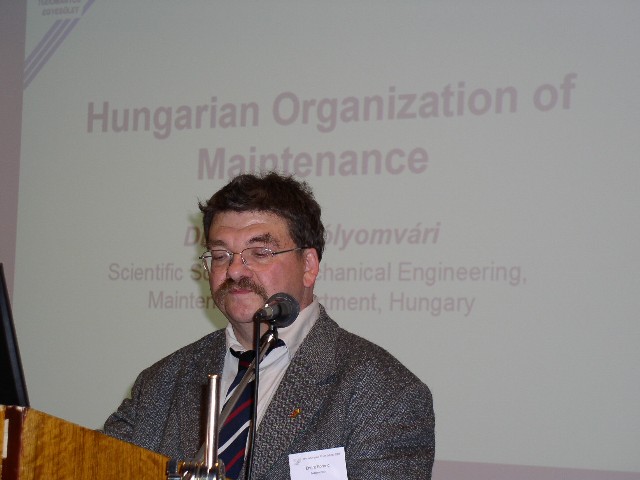 Endre Korondi, presentation of Hungarian maintenance organisation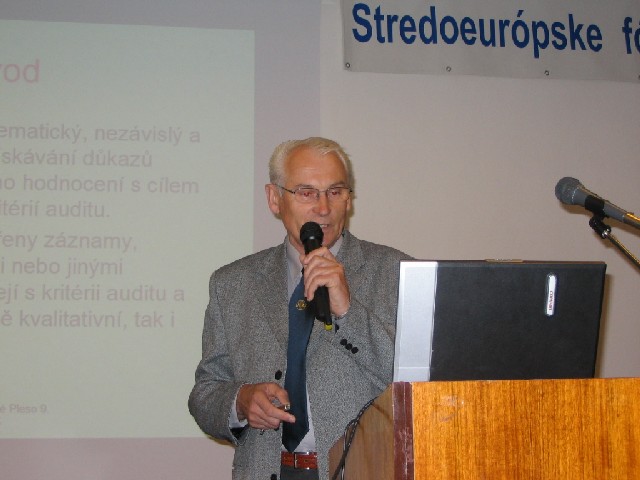 Vaclav Legat - Maintenance audit and experience gained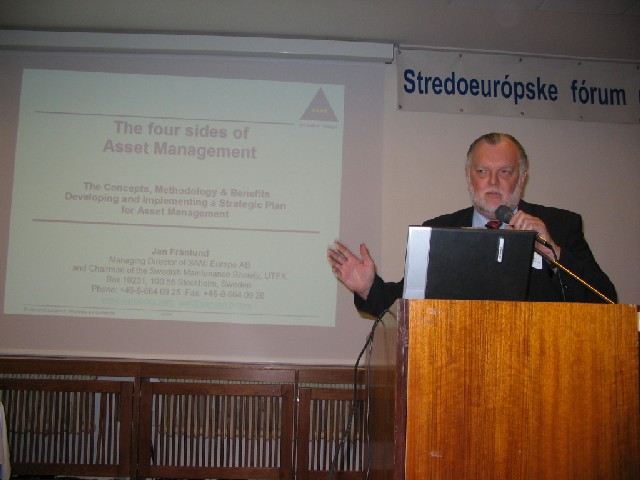 Jan Franlund, Sweden - Four sides of asset management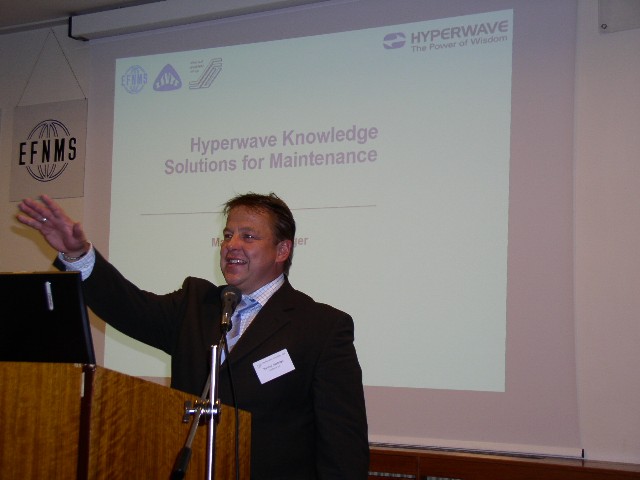 Manfred Starlinger, HYPERWAVE SA, conference general partner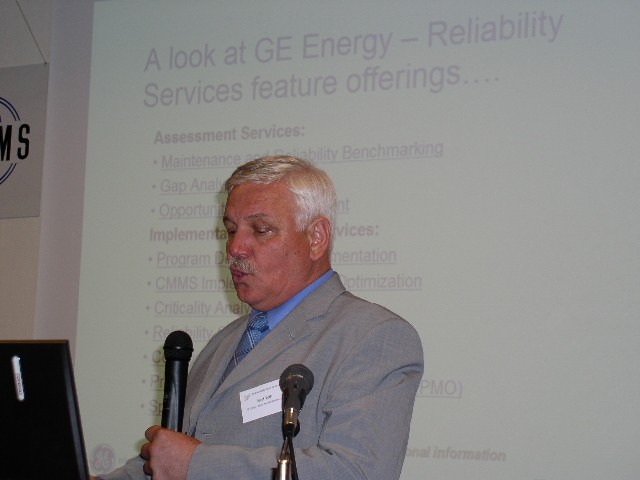 Jozef Toth, GE Energy, Bently Nevada Slovakia s.r.o. - conference main partner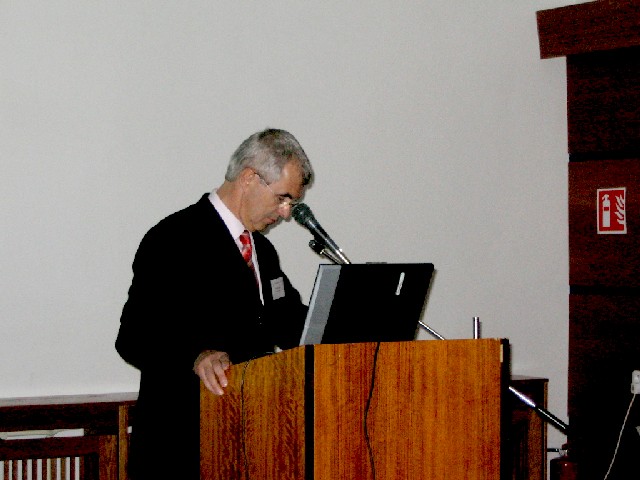 Michael Mueller, Austria, Reinhold und Mahla - Introduction of effective maintenance controlling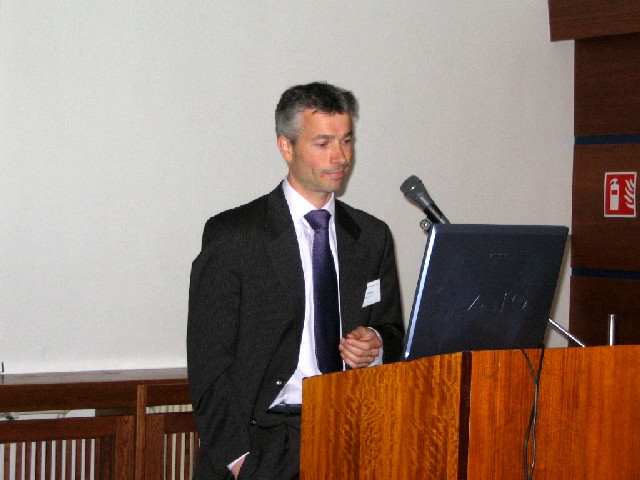 Remco Jonker, Netherlands, Mainovation - Value driven maintenance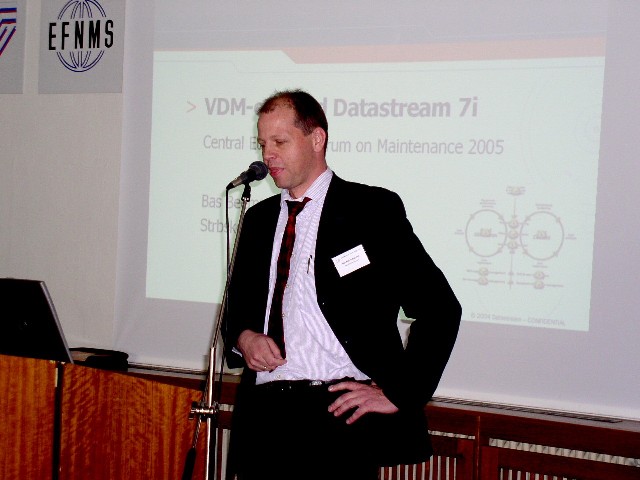 Bus Beemsterboer, Netherlands, Datastream 7i - VDM in D7i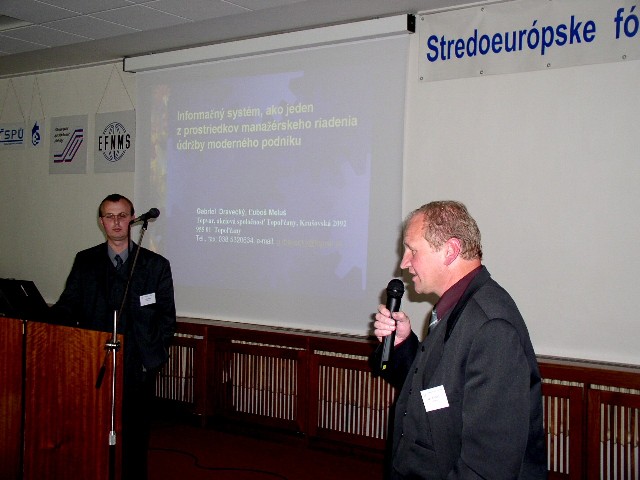 Gabriel Dravecky, Topvar, a.s., Information system in maintenance management ...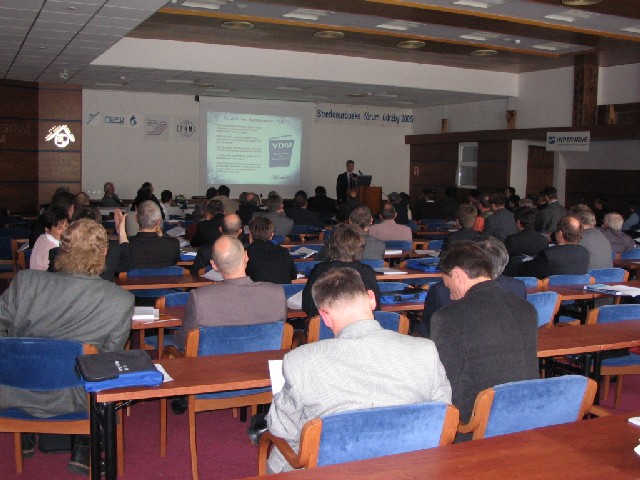 Conference hall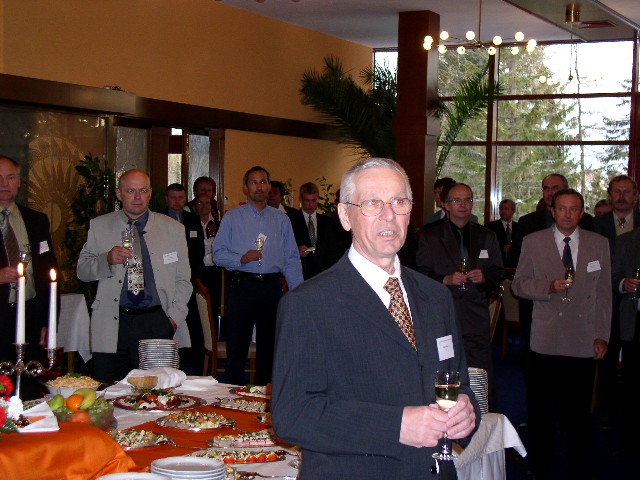 Conference dinner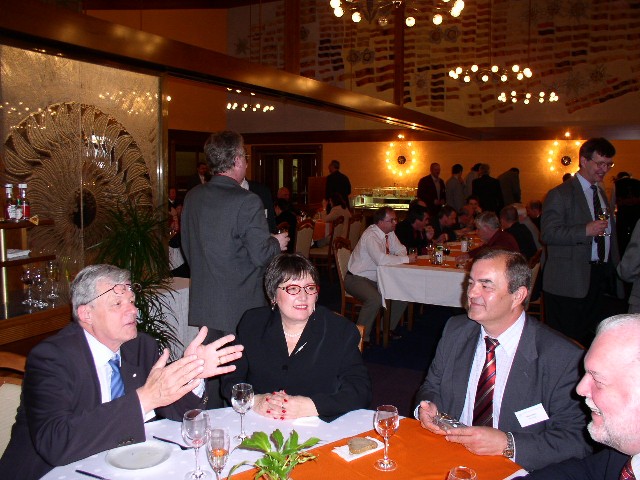 Three EFNMS honorary presidents - Guido Walt (2005 - 07), Mirta Baranovic (2003 - 05), Jan Franlund (1999 -2001), together with Nikola Jelas from Croatia (second from the right)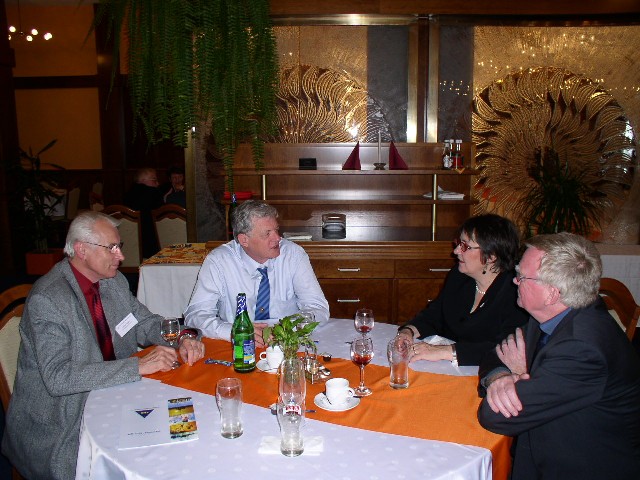 Vaclav Legat, Guido Walt, Mirta Baranovic and Hans Overgaard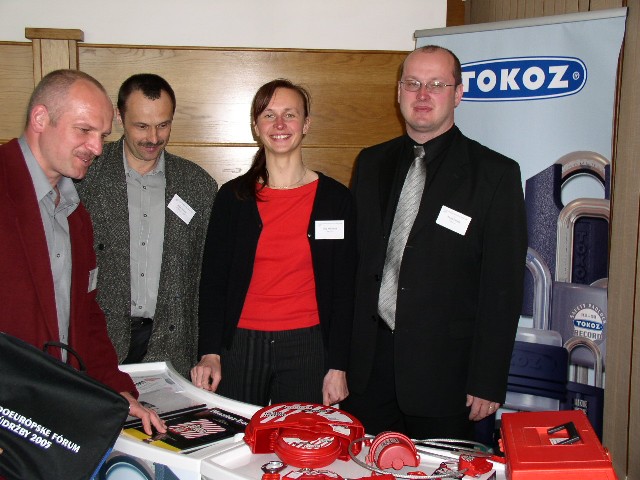 Company exhibitions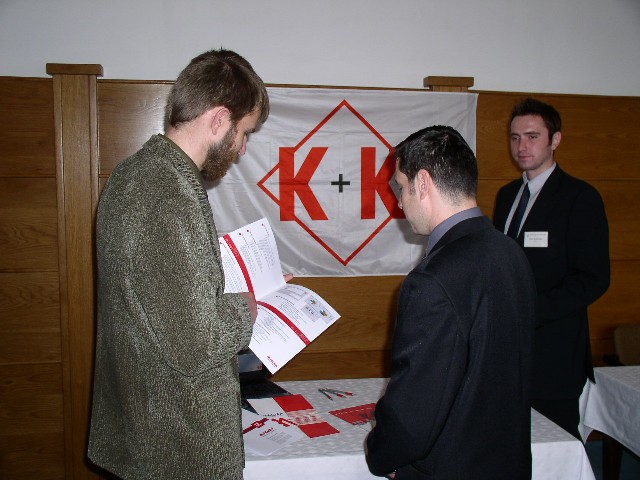 Company exhibitions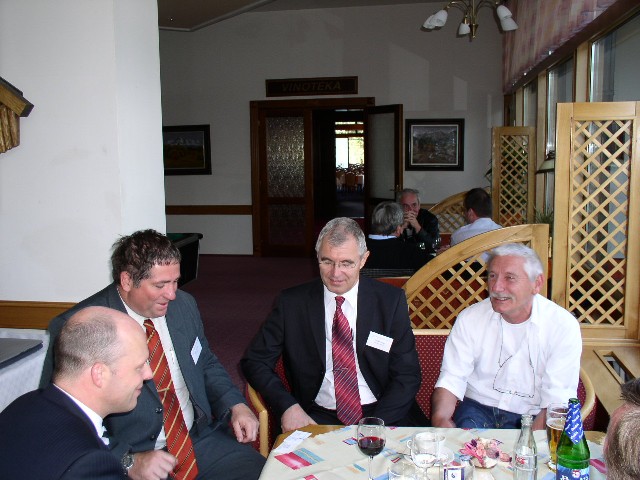 Informal meetings during conference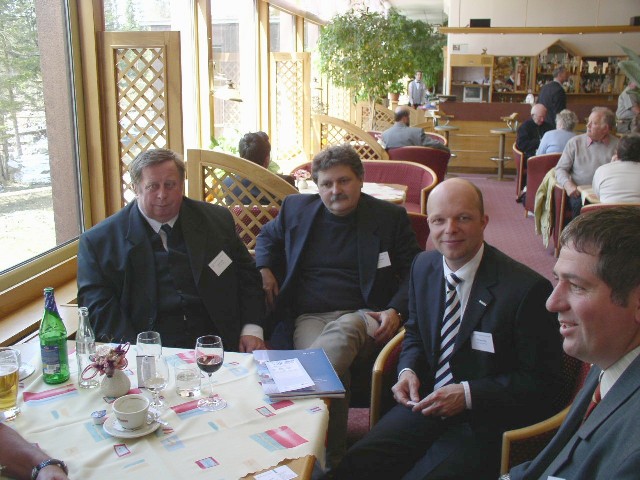 Informal meetings during conference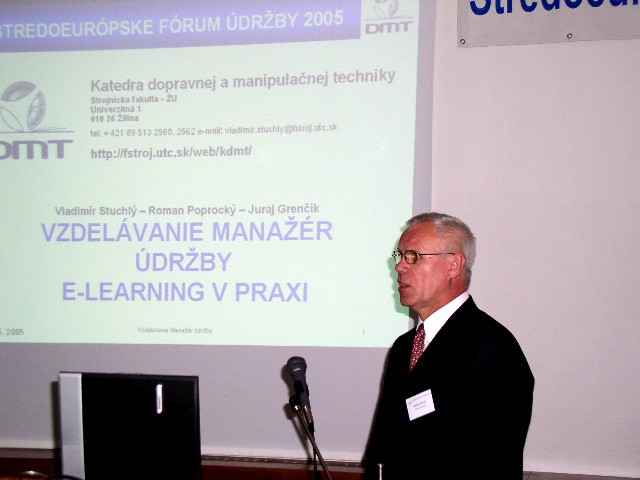 Second day - Vladimir Stuchly - Education in maintenance manager
Conference closing ...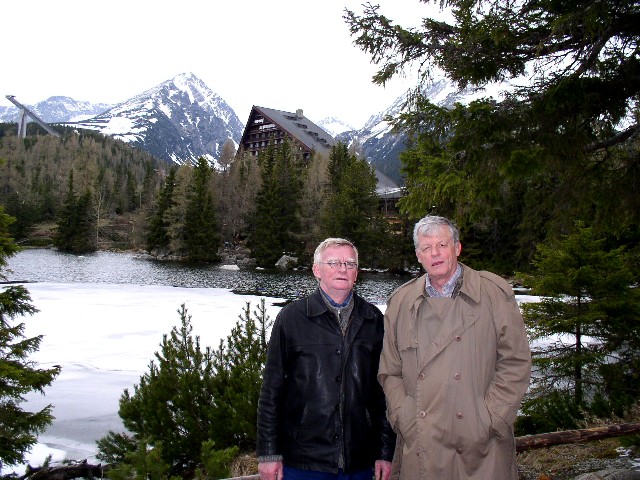 Relax and the lake ...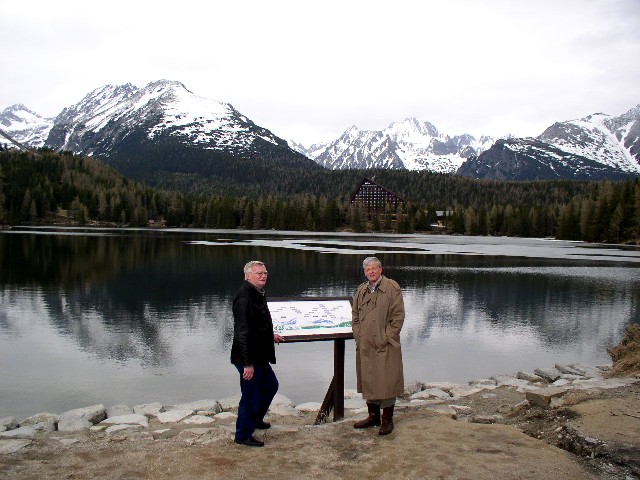 Relax and the lake ...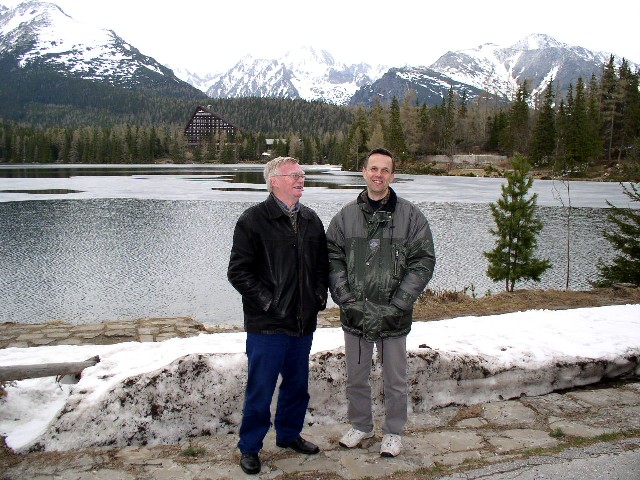 Relax and the lake ...